Additive
Manufacturing
Training
The independent Additive Manufacturing training program powered by AMPOWER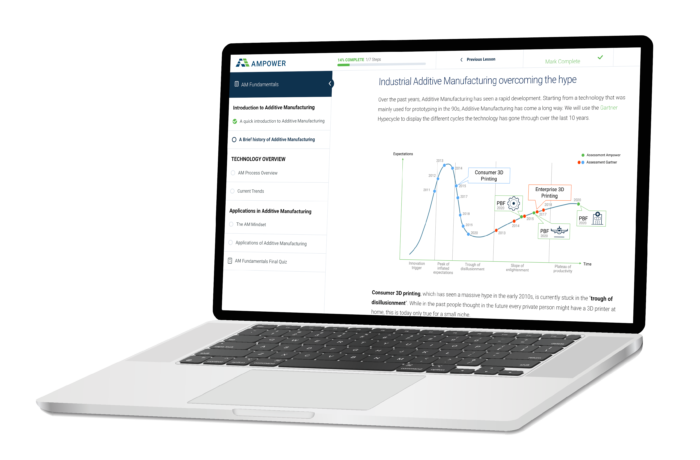 Additive Manufacturing Training
Self-paced online learning programs and hands-on live trainings
Self-paced Additive Manufacturing training
programs
covering the most important topics on the AM market such as technology fundamentals,
working principles, typical applications and current trends. The content is explained via illustrations, videos and external content in order to ensure an optimal learning experience. All courses include a wide range of examples from different industries such as automotive, aviation and medical. The online learning programs are targeted towards managers, designers and other professionals that are getting started with Additive Manufacturing. 
In-depth live trainings
to discuss your applications allowing you to experience different technologies. All live courses are based on the online learning programs and are thus a good opportunity to dive deeper into the most important topics. Each live training can be held on-site or online.
The Additive Manufacturing training programs are
delivered by AM experts
with several years experience in applying the technology. You can choose from several pre-configured standard courses or configure a course based on specific requirements. 
Good reasons for the AMPOWER Academy
The authors combine over 50 years of experience in Additive Manufacturing training as well as over 300 international customer projects and trained more than 500 managers and engineers worldwide. The online learning program is the first of its kind that combines self-made videos with best-in-class content. The focus is on industrial Additive Manufacturing and covers all technologies and industries.
Quick Access to our Additive Manufacturing Trainings
Dive into one of our online learning programs
What is included in our Additive Manufacturing trainings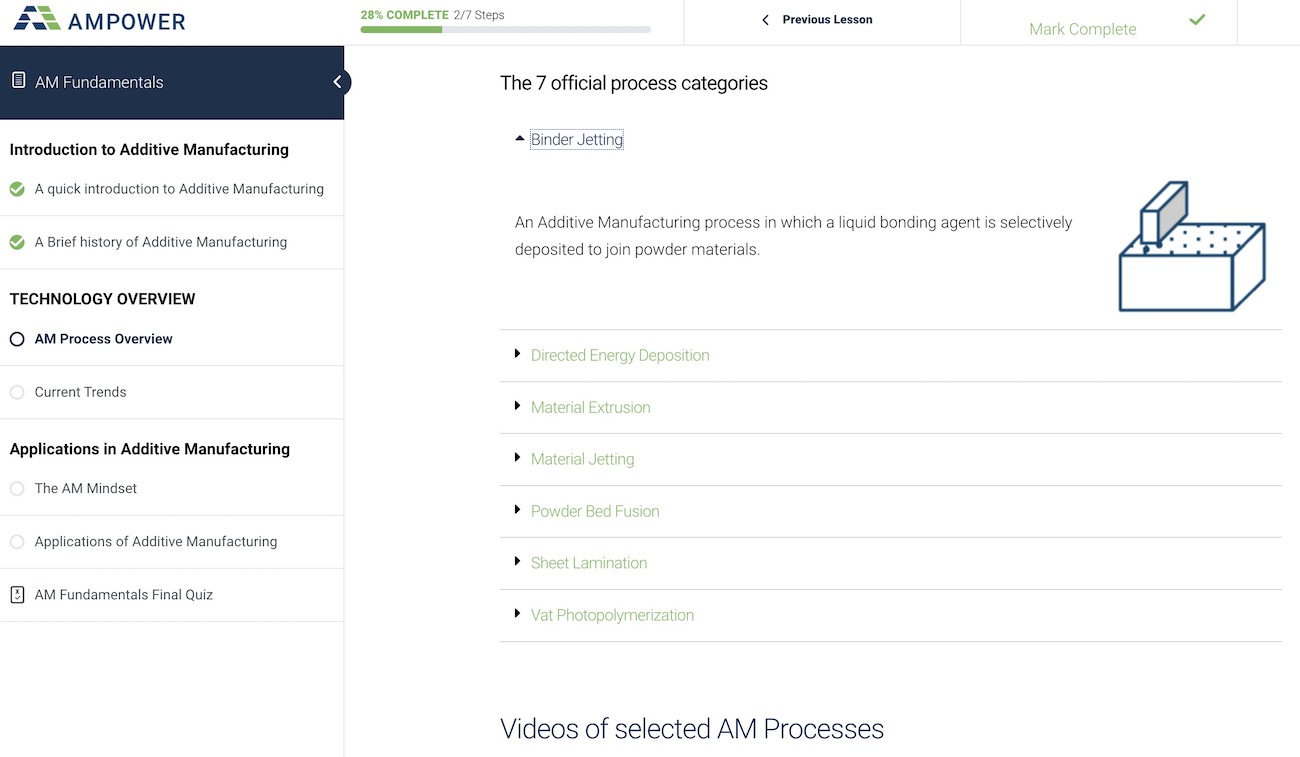 Broad coverage of all relevant technologies
The courses focus on the most important metal and polymer technologies such as Laser Powder Bed Fusion and Metal Binder Jetting. Upcoming technologies are constantly evaluated and will be added to the different courses once they have reached a certain maturity in order to ensure that each Additive Manufacturing training stays up to date. For each technology, the working principle, typical characteristics and materials are presented together with leading suppliers.
Typical applications from different industries
Our online learning programs and live trainings include a wide range of application examples from different industries such as mechanical engineering, aerospace and the energy sector. Each case studies includes background information regarding the technology, materials and companies involved.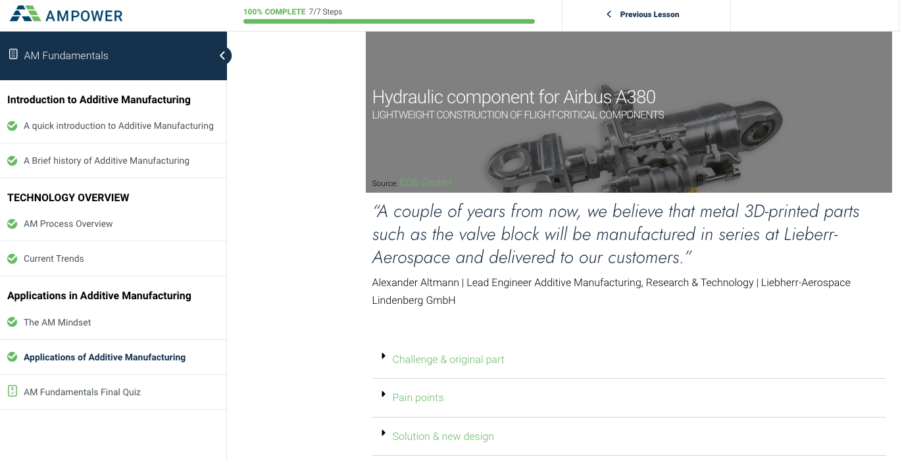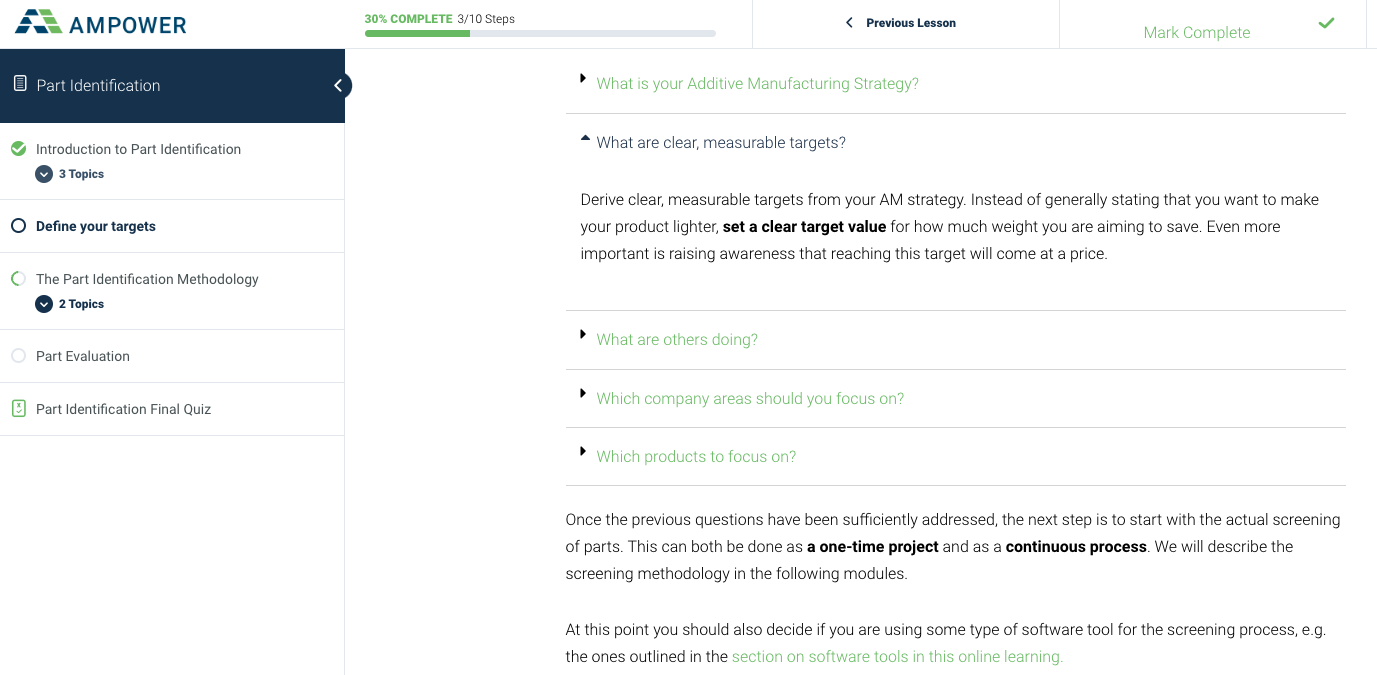 Actionable advice you can apply to your situation
Our Additive Manufacturing trainings contain guidelines you can apply in your company such as typical characteristics of the most common technologies or the part identification methodology. Additionally, you can apply the methodologies from the online learning programs during a live course. 
Get Access to our Additive Manufacturing trainings
You can access the online learning programs as individual users, teams or entire companies. Get access by selecting one of our plans. 
You need guidance for Additive Manufacturing training?