Complexity and performance are driving innovations
TRUMPF Group, a family-owned German industrial machine manufacturing company headquartered in Ditzingen near Stuttgart, is a global leader in machine tools with over 70 operative subsidiaries in key markets worldwide. With a workforce of over 16 thousand employees, the company is divided into two departments: the machine tool division, which specializes in sheet metal forming solutions, laser cutting, joining, and marking machines, and the laser technology division, which focuses on the development of solid-state and diode laser machines. 
In addition to its core operations, TRUMPF has recently entered the 3D Printing market with its Laser Powder Bed Fusion machine for metal. This article, however, focuses on the company's internal 3D Printing applications, which have been successfully integrated into various TRUMPF machines. As a technology leader, TRUMPF offers highly productive and complex machines, which provide an ideal foundation for exploring new 3D Printing use cases.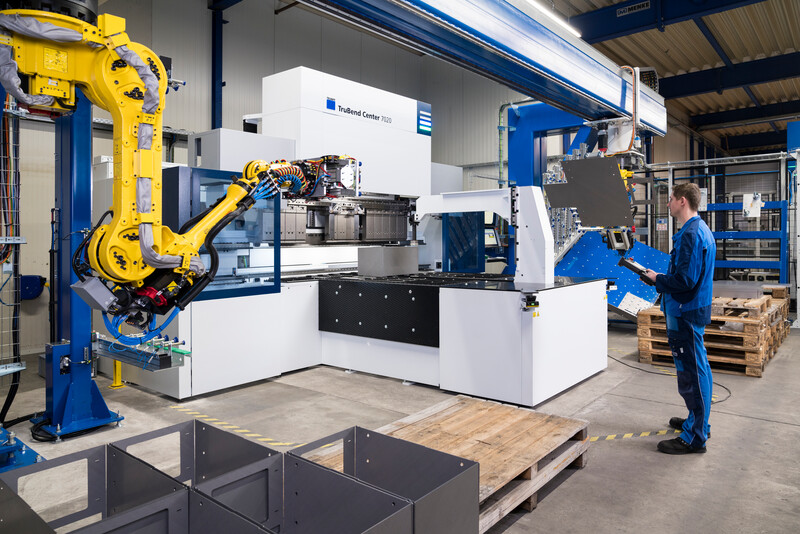 Bottom-up screening with high success rate
Applications for 3D Printing had been identified at TRUMPF on a case-by-case basis. Trained engineers proposed potential applications and a team of 3D Printing experts evaluated the potential and worked with the part owners on developing a successful use case. At the same time, the top-down support from CTO level was a critical success factor, since it fueled acceptance for 3D Printing among the management levels and increased enthusiasm among stakeholders.
When it comes to specific applications, fluid guiding components have proven to be a highly successful area for 3D Printing applications at TRUMPF, for several reasons. Firstly, these components often have a high risk of leakage at every joint, which can be reduced by successful 3D Printing designs that minimize the number of components. Secondly, fluid guiding components tend to be highly complex, with internal structures that are difficult to manufacture conventionally. Moreover, the channels are often intricately wound around areas that require cooling or heating, making conventional designs both expensive to produce and difficult to test and assure for quality due to the increased risk of leakage.
3D Printing has also proven to be a successful solution for solid joints, which can be difficult and expensive to manufacture using conventional designs that require extensive manual calibration. TRUMPF has demonstrated the effectiveness of using AM to produce these parts. Most of the early use cases involved small parts that could be easily nested on a platform of a TRUMPF 3D Printing machine. Large parts that utilize the full build platform are more challenging to produce and require careful design considerations to minimize the cost of production.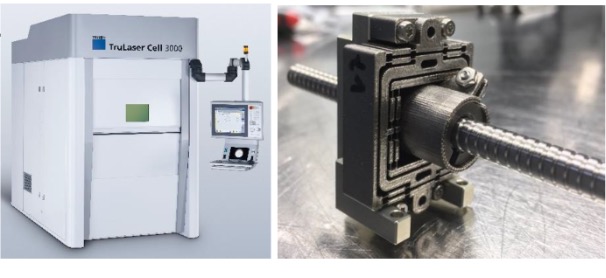 Know-how and training are a key element
While the slogan "complexity is for free" is often associated with 3D Printing, it is important to note that this technology can be expensive if the design is not well thought through. By educating engineers on how to design for 3D Printing, TRUMPF has been able to unlock the full potential of this innovative technology. However, it's not just engineers who can benefit from a basic understanding of 3D Printing. Procurement teams, for example, can also identify potential applications where 3D Printing can help solve supply chain or quality issues.
Similarly, technicians and quality engineers on the shop floor or in process development departments can identify areas where 3D Printing can improve production processes or solve quality issues. For example, they may identify parts that are difficult or expensive to produce using traditional manufacturing methods or have continuing quality issues.
Overall, by empowering key personnel with an understanding of 3D Printing, TRUMPF has been able to unlock its full potential and create new opportunities for innovation and cost savings. This has helped the company stay ahead of the curve in a highly competitive industry and continue to deliver value to its customers.
Collaboration across teams leads to successful 3D Printing applications

Implementing 3D Printing in a company that has been around for 100 years can be a time-consuming process. Established designs and processes that have been proven over centuries are now being challenged by a completely new metal manufacturing technology, causing both excitement and apprehension. Engineers who are responsible for the safe and reliable functionality of a component may be hesitant to trust a new manufacturing technology.
Despite numerous guidelines and handbooks on correct design and proven material properties for 3D Printing, experience and established standards are still lacking. This challenge can be overcome by close collaboration between 3D Printing experts, responsible part owners, and management. All three stakeholders must be fully committed to developing successful 3D Printing applications, while also addressing legitimate concerns and building trust through real data.
In summary, successfully implementing 3D Printing in a company with a long history requires a collaborative effort that takes into account legitimate concerns and leverages the expertise of all stakeholders involved. By doing so, the company can successfully integrate 3D Printing into its manufacturing processes, leading to greater innovation and competitiveness in the marketplace.
Besides being one of the leading supplier of machines for metal 3D Printing, TRUMPF successfully implemented the technology in several different areas. In this process, 3 key learnings where identified that can help industrial companies to successfully implement 3D Printing: